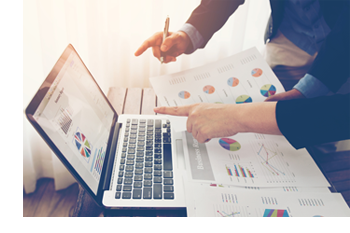 Along with the elaboration of ISAs, SOSE also produces several reports aiming at providing taxpayers with a free of charge  business information service. There are 5 Reports, each one with its own nature and purpose, which can provide both fiscal and economic management support. The information reported is the result of SOSE analysts' work as well as the know-how which was acquired over the years by analyzing the information assets on small and medium-sized Italian companies.
RES - The Economic Sector Report is a representation of the main sectors of the Italian economic system through a brief description of the structure and dynamics of the reference sector.
Each Report aims at providing the world of SMEs and professionals with simple, essential information on the most relevant aspects of the structure and evolution of each sector.
The document is organized into two sections: the first one deals with the structural aspects of the sector as a whole (companies / professionals, employees, request, trade balance, etc.). The second one focuses on the analysis of companies and professionals of each sector, mainly on the characteristics of the business models, the main determinants of the value, the strategic factors to compete successfully.
RAS - Sector Reliability Report is a summary report drawn up for each economic sector highlighting, through graphical representations, the Synthetic Index of Reliability that has been achieved on average by the companies in their sector in the last eight years. For each elementary indicator of reliability and anomaly the relative trend and the average of the period are reported.
The Supplementary Notes Analysis Report - RAN - allows to elaborate and classify the notes transferred by taxpayers, with the goal of knowing better all the main issues that are present in a specific sector The notes are elaborated through a text mining software and Data Mining techniques in order to analyze and extract useful information from large amounts of unstructured texts.
The Audit and Benchmarking Report - RAB - has the objective of sharing data of Italian companies subject to the Synthetic Index of Reliability. The document consists of two parts: the first, Audit, provides an assessment of the performance of the individual company; the second, Benchmarking, allows to obtain a specific assessment of the strategic positioning of the company with reference to the competitive context in which it operates and the comparable groups of companies dynamically identified.
The Personal Reliability Report - RAP - is a summary report drawn up for each taxpayer. It shows the Synthetic Index of Reliability resulting from the analysis of the data acquisition models completed by taxpayers in the last eight years. It reports in a graphic format the system of elementary indicators of reliability and anomaly.