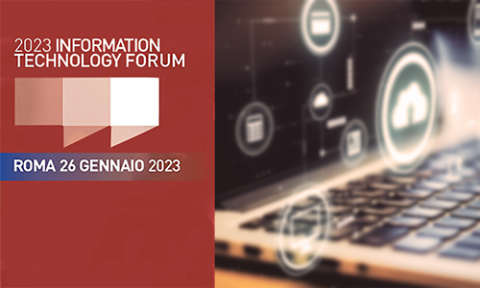 The second edition of the Information Technology Forum will be held on Thursday 26 January, the annual IT and information security event organized by Comunicazione Italiana. Within the talk dedicated to the essential contribution of IT management to the new work scenarios, Emanuele Schirru will also contribute to the debate with his experience in the role of Chief Information officer and Chief Operating officer of SOSE.
Data, as structural elements of the new technological revolution and able to generate value also in new business processes, will be at the center of the IT Forum in which IT Managers, Chief Security Officers, Chief Technology Officers, Opinion Leaders of the Digital world, can meet and dialogue on the key role of Information Technology in current and future contexts.
The world of work and corporate organization in the light of the new logics that characterize it will be the subject of the talk in which the CIO and COO of SOSE, Emanuele Schirru, will intervene. In the current context, understanding the orientation of the organization towards hybrid work becomes central in order to evaluate what the advantages could be for the IT team and for the IT manager. And again which tools can concretely support productivity and what to add to the new idea of e-collaboration to bring well-being within teams, also improving the corporate climate.
During the event, which will be held in person at the Palazzo dell'Informazione in Rome starting at 9.00, talk shows, phygital speeches and thematic tables are scheduled. The detailed program of the event can be consulted here and can also be followed online at comunicaitaliana.tv
---