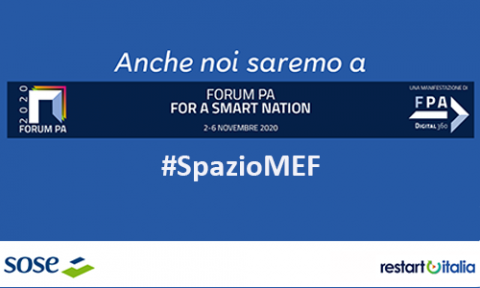 SOSE will participate in the Autumn event of ForumPa2020 within #spazioMEF, the daily column by the Ministry of Economy and Finance. The Forum PA event of November will focus on the Country's relaunch thanks to a shared recovery project based on innovation and sustainability.
Digital Transformation is a challenge affecting each aspect of corporate life, a development path involving different stages such as smart working, smart office, digital learning, cybersecurity, and connected HR. The pandemic crisis has accelerated this challenge, driving the PA towards new cultural approaches.
SOSE will host a digital talk focusing on the change as new normality analyzing scenarios, keywords, and trends in a public-private debate with the participation of Nexi, a leading company in digital payments, and Prof. Mariano Corso of Partners4Innovation. He has supported for years PA and companies in the digital innovation processes.
During the July edition, SOSE promoted a debate on Digital transformation. Now it continues describing its development between resilience and innovation, which has proved essential to ensure the operational continuity of the PA and enterprises, a dynamic element accompanied by always new and more complicated challenges.
PROGRAMM
Moderator
Fabio Basile - Chief Communication and Marketing Officer - SOSE
Participants
Emanuele Schirru - Chief Information Officer - SOSE
Mariano Corso - Politecnico di Milano/ MIP
Maria Grazia Bizzarri - People Development, Reward and Transformation Director - Nexi S.p.A
To register for the event, click here
---