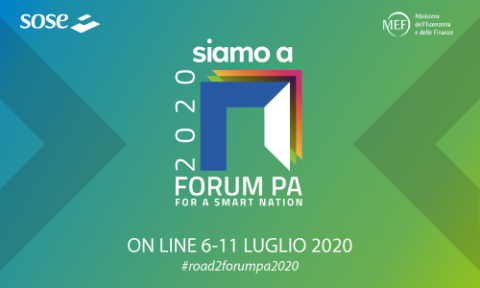 This year, as usual, SOSE takes part in ForumPA 2020, the event dedicated to the Public Administration innovation. This entirely digital edition focuses on the recovery and the ability of the Public Administration to respond to the Covid-19 emergency protecting the public interest.
SOSE participates in #SpazioMEF, the program elaborated by the Ministry of Economy and Finance and supported by all subjects linked to it. In this context, SOSE decided to address two issues: the change management for improvement and the analysis of Covid-19 impact on Italian municipalities.
Human resource management
Adaptive Leadership and Change Management in the Public Administration. Innovative tools and approaches to implement a new work model – by the Department of the General Administration of the Ministry of Economy and Finance.
Tuesday, July 7th, at 3.15-3.45 p.m.
With the beginning of the lockdown in Italy, companies had to make extraordinary choices in a short time. In particular, SOSE, which collaborates and works for the financial Administration, decided to exploit the highest potential of smart working, enabling its employees to access this new way to work and guaranteeing complete operational continuity to its institutional partners.
SOSE could face this organizational, technological and cultural challenge thanks to the prerequisites already developed in the preceding months and the prompt and active response of its employees.
Recovery after Covid-19: data and maps for municipalities' resilience
Thursday, July 9th, at 3.15-3.45 p.m.
For approaching data-driven society, it is essential to have data and models able to create value protecting the public interest and offering the decision-maker the necessary information to make decisions. This approach is particularly required for emergencies, such as the Covid-19 pandemic, a crisis that has produced a severe impact on public health and economy with significant effects on local authorities.
To evaluate the effects of this impact, SOSE provided the State General Accounting Office a methodological proposal to define an income Map of municipalities. Thanks to this map, it is possible to assess the variations of the local authorities' potential expenditure. Through this activity, SOSE has supported the two working tables established by MEF with the Relaunch Decree. These elaborations are based on data and methodologies deriving from the experience and the specific know-how that SOSE has developed in the years elaborating standard expenditure needs of Italian local authorities.
---